Program
Armenian Dances: Part 1
Alfred Reed
T-bone Concerto: I. Rare
Johan de Meij
One Life Beautiful
Julie Giroux
Aubrey Fanfare
Jack Stamp
Early Light
Carolyn Bremer
Miss Trombone (A Slippery Rag)
Henry Fillmore
The Melody Shop
Karl L. King
Old Scottish Melody
Charles A. Wiley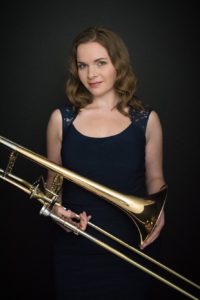 This concert we feature one of our community's educators and instrumentalists, Rebecca Ford. Ms. Ford is the Lecturer of Trombone at Pacific Lutheran University and is an active trombonist and teacher in the Puget Sound region. She can be heard with ensembles such as: the PLU Lyric Brass Quintet, Seattle Symphony Orchestra, Tacoma Opera, Pacific Northwest Ballet, and many others.
In addition to her responsibilities at PLU, Ms. Ford is on the faculty of Evergreen Music Festival, Vivace Chamber Players Organization, Cornish College of the Arts, Tacoma Community College, and has a vibrant private studio for trombonists of all ages. Ms. Ford received her degree at the Cleveland Institute of Music, where she studied under the tutelage of Steve Witser and Richard Stout. When she's not holding a trombone, she enjoys gardening, hiking, fermenting food (on purpose), and going on adventures with her friends and family.
Rebecca Ford is performing Johan de Meij's T-bone Concert: I. Rare. Along with the soloist, the band will be performing works from Alfred Reed, Jack Stamp, Karl King and Henry Fillmore featuring our trombone section. Join us March 9 to listen to these fantastic musicians.