Friends,
It's amazing to think 2019 is almost over. This calendar year brought lots of fun opportunities to share music with you. We continued our 37th season's third concert in March with Guest Soloist Rebecca Ford on the trombone. She was excellent and we all loved hearing her perform.
In May, we performed one of our most challenging pieces, Suite of Old American Dances, with guest conductor Ed Powell. Thank you Ed for leading us on short notice! We also featured Thomas E. Anderson Scholarship recipient Eze Odimba from Rogers HS on Alto Saxophone. Man, that kid can play! Good luck to you Eze!
In November, we opened our 38th Season with John M. Wetherington as our new director. We are grateful for his leadership and musical excellence. Thank you John!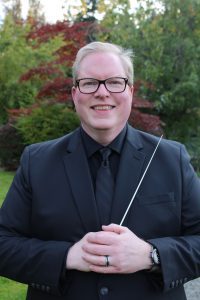 A few weeks ago on December 7, we shared the stage with local trumpeter Morris Northcutt. Hosting Morris was a blast and we can't appreciate him enough for performing with us.
We made some awesome sounds in 2019 and look forward to sounds in 2020. Thank you for your support and attendance. Please consider donating to the band so we can continue bringing great music to you!
See you on March 15, 2020! Happy New Year!
SSSB